About A1 Agency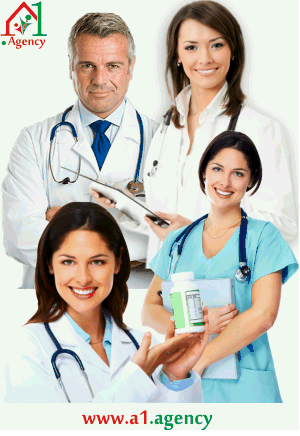 A1 Agency is more than just a staffing service; it is the ultimate option for employers looking to find excellent employees to grow their business, and for employees looking for the right company to further their career goals. By providing a bridge between these two entities, A1 Agency has quickly grown as a recognized staffing solutions firm gathering 5 recruitment offices, a network of 23 recruiters and a database of over 200K candidates. A1 Agency is your partner first and your supplier second. By striving to understand the needs of our customers, our goal is to become the area's first and best choice for quality candidates and tremendous opportunities.

We share a common goal of building relationships based on trust, this shared goal helps us to deliver our belief that great people make great companies. We provide staffing for a wide variety of companies for positions including but not limited to, entry level, middle management, top management, temporary staff, medical staff and students.

Our success has been based on matching qualified candidates with employment opportunities at the finest companies. Knowledge is power in understanding the needs of both our client companies and qualified candidates.

Because we know that there are still successful companies and dedicated employees who haven't meet yet, our goal is to provide the perfect solutions for companies and the best opportunities for employees.
Medical
A1 Agency provides qualified and carefully pre-screened healthcare personnel and medical professionals: cleaners, healthcare assistants, registered nurses, pharmacists and doctors for both private and governmental sector.

Whether you are in need of temporary or permanent staff, our flexible and committed candidates are ready to deliver the top quality we aim at all levels.

Get in touch us with us today and we are happy to pass you the first sample CVs within hours! Call 01202 798868
Hospitality
A1 Agency recruiters are continuously hunting the best talents for you. The eye for details and high standards lead us into great candidates who are ready to become temporary or long term assets for your organization.

We can provide from entry level to top management personnel both low skilled or highly trained profiles having valuable expertise within 5* luxury environment.

We cover the main areas of a hotel from Reception, Restaurant and Kitchen to office staff all ready to start with you in matter of days!
Logistics
A1 Agency flexible, adaptable and customized approach is designed to meet any staffing requirement or scenario.

Whether you are a haulage company looking for qualified drivers (Class 1 Drivers or Class 2 Drivers), a warehouse looking for assemblers, freight handling, packing, machine operators, A1 Agency provides comprehensive employment staffing solutions for logistics industry that combine recruiting, interviewing, screening and reference checking for easy and effective placement of temporary labor for jobs of any size, skill level or in any locations, local or nationwide.

Thanks to our large database of candidates with already pre-screened candidates, we are able not just to understand your needs but promptly answering to your needs with practical and affordable staffing solutions.
Training
Treat people costs as investments rather than expenses.

We understand the importance of each staff member to meet the necessary educational and training requirements for the services they provide. We encourage and support continued education of each of our employee.

We require each of our candidate to go through all the training required in order to ensure each team member understands, believes in and will follow through on maintaining our highest levels of expectations for service to our service users. To achieve this goal, instead of e-learning we chose in-house training held by our professional trainer to as quality of staff is on our top priority.

Career development is something we always encourage within our organization, we are happy to support any professional development as part of our philosophy is to treat people costs as investments rather than expenses. Once our formal induction programme is completed, we follow this up through regular monitoring and supervision to ensure all of our candidates are working to the highest standard that we come to expect from all of our staff.
Our Mission
With a both personalized and professional approach, we are committed to building long term relationships with our clients which allows us to thoroughly understand what their staffing and business needs are. With a sense of urgency and professionalism, we take on the projects that your company may not have the time to complete, allowing you to concentrate on your company's bottom line.

Client Mission Statement: Our goal is to provide our clients with employees that exceed their expectations when they need them and for as long as they need them.

Employee Mission Statement: Our goal is to provide our employees with personal attention and work assignments that are commensurate with their experience, training and interests.
Our Vision
At A1 Agency we strongly believe that to provide added value for each and every one of our clients, we must listen attentively to their requirements and learn. From the welcoming smiles at the reception desk to the wisdom of senior management, everyone is there to add value and, ultimately, profit to our clients.

We believe that when a customer instructs us to represent their interests, that responsibility has been transferred to us and we must understand their business goals as well as their HR goals and focus our services on achieving both these goals. Therefore, our objective is to provide what the client wants by designing unique solutions that are not based on a single service, but will typically combine the services of many parts of our organization.
Our Values
Our common values give us a sense of direction when the climate is foggy. These values provide a framework for individual decision-making at every organizational level and equally pertain to relationships with customers, staffing associates, and co-workers. Our values work in unison to create a company of pride and purpose.
It is our dedication and expertise that back these core values:
People are the most important aspect of our business
Ethics, honesty, integrity, and openness guide our behavior
Communication and collaboration is encouraged and rewarded
We are committed to exceptional employees, clients, and candidates
Every individual is treated with respect